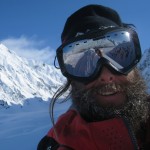 Jed Workman
Avalanche Specialist
jedworkman@hatcherpassavalanchecenter.org
Jed has been climbing and skiing in the Utah, Wyoming and Alaskan backcountry since 1990 and mountain and ski guiding since 2000. He has instructed and guided for NOLS, the Alaska Mountaineering School, Jackson Hole Mountain Guides and Valdez Heli-Ski Guides. Since 2003 Jed has been a regular backcountry skier at Hatcher Pass. He recognizes the need for an avalanche information center at Hatcher Pass. Through a partnership with the Alaska Avalanche Information Center and the Friends of the Chugach National Forest Avalanche Information Center, Jed is working towards a permanent avalanche forecast for Hatcher Pass.
Allie Barker
Avalanche Specialist
alliebarker@hatcherpassavalanchecenter.org
Allie has been an avid skier since age 2 and climbing since the mid 90′s. Since 2000 she has worked as an instructor and mountain guide for NOLS, Alaska Mountain Guides, Alaska Mountaineering School, and Arctic Wild. She has completed Avalanche Pro Level I, II, and, III. Allie loves spending time in the mountains and especially skiing. Her combined skills and interest in skiing make her an exceptional snow nerd.
Dylan Barker-Workman Soderstrom
Dylan Dog loves to study snow. Her previous companion, Johnny Soderstrom, died in an avalanche on Mt. Huntington in 2005. Ever since, Dylan has been dedicated to sticking her nose in the snow and skiing one at a time. She has become an excellent observer and spotter while her companions dig pits. Skiing makes her tail wag.